Visit our offices at SF State's Estuary & Ocean Science Center in Tiburon, California.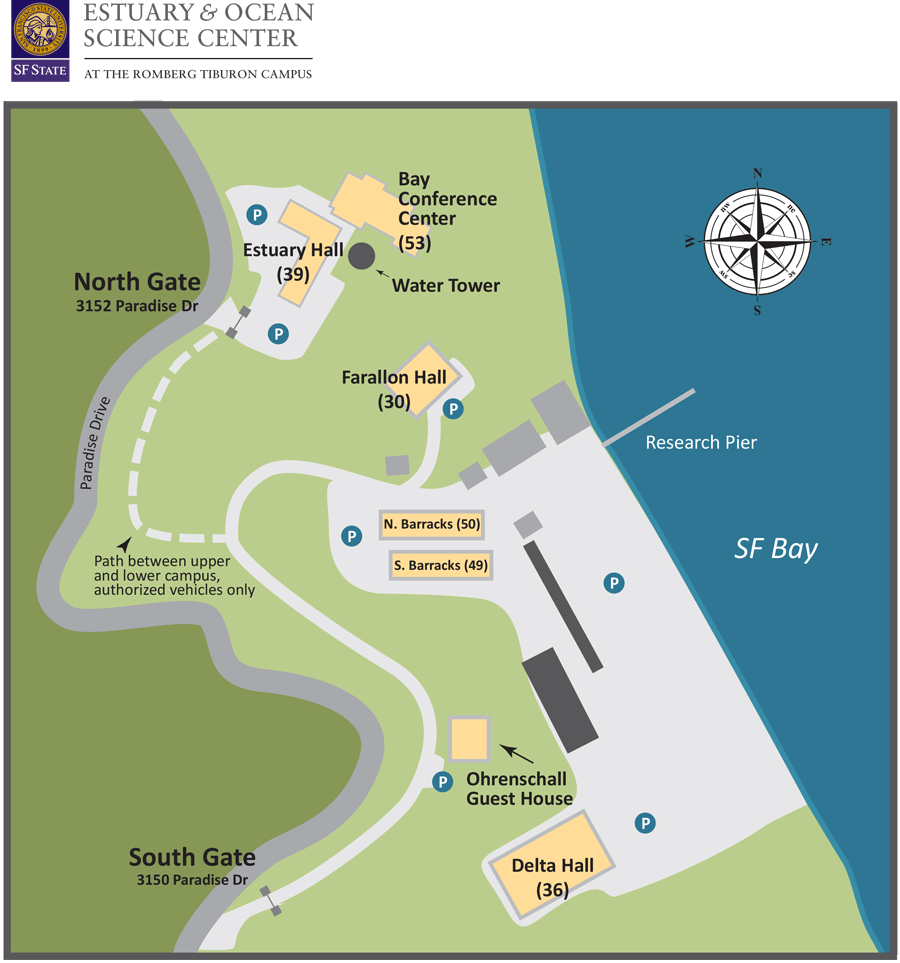 Map of the Romberg Tiburon Campus.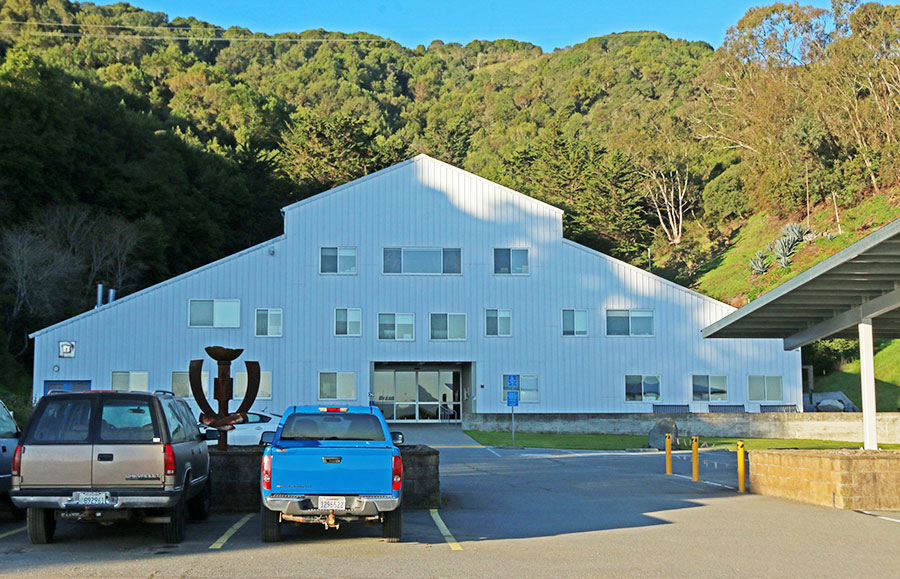 NERR research offices are located in Delta Hall, Building 36. Photo Credit: Elizabeth Zambello.
Directions to the Estuary and Ocean Science Center at the Romberg Tiburon Campus
From Highway 101 north or south take the Tiburon/East Blithedale exit.

Go east onto Tiburon Boulevard and continue 1.7 miles to Trestle Glen Blvd.

Make a left turn onto Trestle Glen Blvd, and continue 0.6 miles until you get to Paradise Drive.

Make a right turn onto Paradise Drive.

The EOS campus has two entrances on Paradise Dr. The first entrance is 2.9 miles down Paradise Drive. The second entrance is another 0.5 miles down the road at 3150 Paradise Drive.
Our Office Locations within Campus
Use the first entrance to visit the offices of the Reserve Director, Education Coordinator, and Coastal Training Program Coordinator who are located on the second floor of Estuary Hall, Building 39.

Use the second entrance to visit the offices of research staff and the NERR Lab who are in Building 36. To get to Building 36 from Paradise Drive, turn left and follow the driveway down the hill to the waterfront and continue to the far end of the lot. Our offices and lab are located in the large barn-like building named Delta Hall, Bldg 36.
Land Acknowledgement
A land and territory acknowledgement recognizes the Indigenous inhabitants of a place, and their history, presence, and future. We make this acknowledgement out of respect for Indigenous peoples, to recognize their integral relationship to the lands and waters, to acknowledge suppressed and erased histories, and to remind ourselves and our communities that many Indigenous peoples from many nations live, study, and work in the San Francisco Bay area and throughout the world today. We make this land, territory, and water acknowledge-ment as one small step toward correcting the stories and practices that erase Indigenous people's history and culture, while recognizing that much more work remains to be done. We commit ourselves to inviting and honoring the truth. The campuses of San Francisco State University on the San Francisco peninsula and north bay are located within the occupied territories of the Ramaytush Ohlone and the Coastal Miwok (who, along with the Southern Pomo, are organized as the Federated Indians of Graton Rancheria).