Address
3521 Grizzly Island Road, Suisun City, CA
Directions
From Interstate 80 in Solano County, take the CA 12 East Exit. Drive about 4 miles on Highway 12, then turn right onto Grizzly Island Road. Follow Grizzly Island Road 2.5 miles south then turn right on to the gravel driveway. There is a large sign that says "Rush Ranch".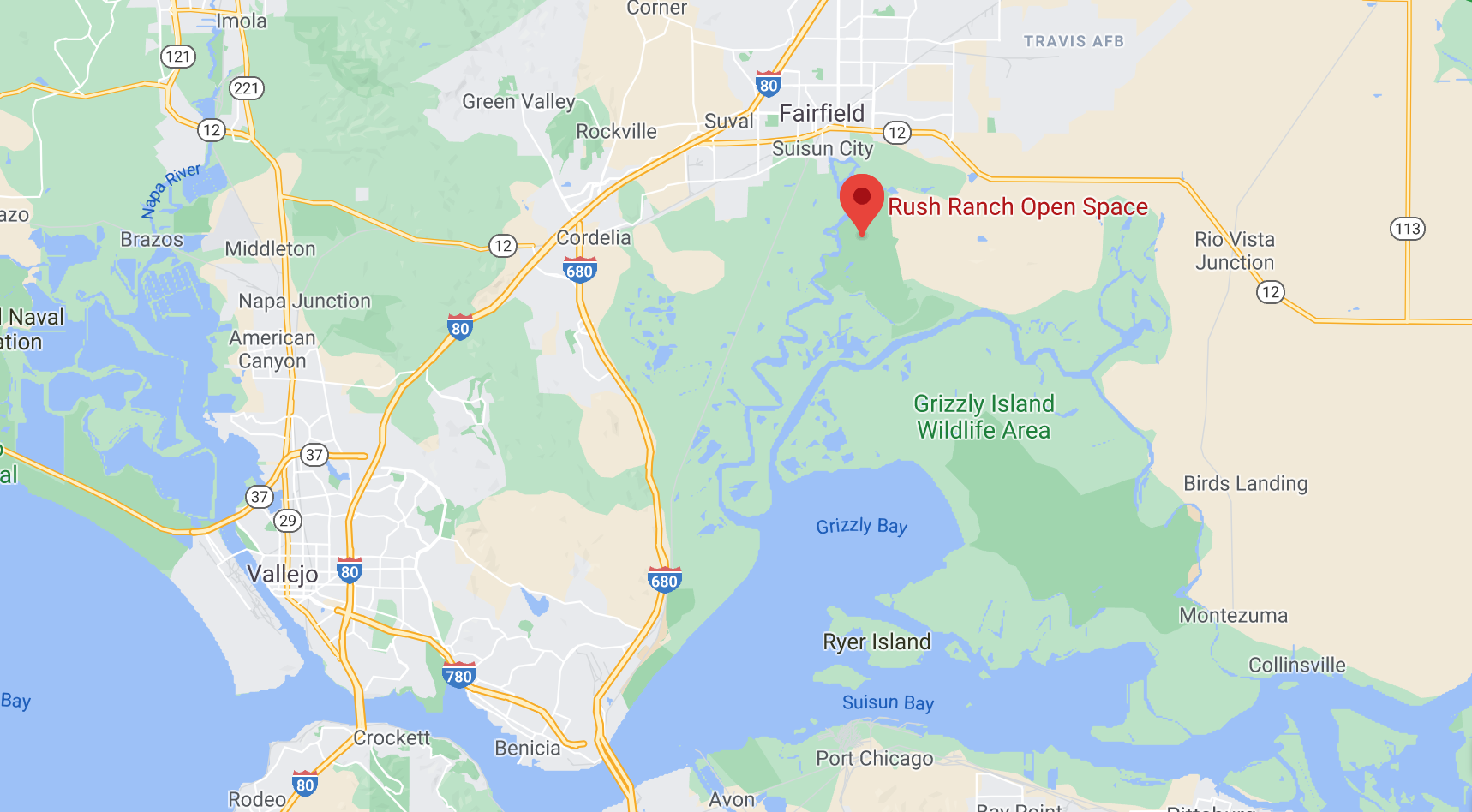 Trails and Hiking
The Rush Ranch estuary is home to great bird and wildlife watching, scenic hiking trails, and rich human history.
Featured Hike: Marsh Trail
There are three hiking trails at Rush Ranch: the Marsh Trail and South Pasture Trail leave from the Nature Center and the Suisun Hill Trail leaves across from the main entry gate. All three trails have their perks (and their fans), but we recommend hiking a small portion of the Marsh Trail. (We are marsh scientists, after all!)
After checking out the map and exhibits at the Nature Center, pick up the Marsh trail as it enters the Eucalyptus grove just past the Syar arena. Follow the trail towards the Marsh Overlook Hill, hike up the small hill for a spectacular view of Suisun Marsh. After resting on the strategically placed benches, follow the small trail that winds down the hillside towards the replica of a Patwin Hut. Stay right after exploring the hut to make a loop around the base of the hill and back towards the Nature Center. Be sure to pause near the edge of the marsh to listen for birds singing and maybe, if you are really lucky, catch a glimpse of a river otter. This hike is relatively flat and about 1 mile long.
Land Acknowledgement
The SF Bay NERR in partnership with the Solano Land Trust honor the Patwin Suisun community at Rush Ranch. The Patwin people are named the Yocha Dehe Wintun Nation, a sovereign nation recognized by the US Congress. These original stewards tended and loved the land long before anyone else, and we want to acknowledge the vital role their descendants play in the Solano and Yolo counties today.
More Information
Rush Ranch Estuary
Rush Ranch is famous for the tidal brackish marsh that is a rare and special remnant of a once vast habitat that provides an opportunity to learn more about California's natural history. Learn more about the Rush Ranch estuary on our About Rush Ranch page.
Solano Land Trust
Visit the Solano Land Trust website for more information about Rush Ranch.